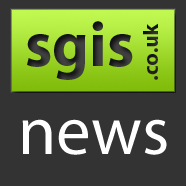 Benefits of having a website
There are many benefits to having a website for your business. Here at SGIS we provide many services to help you get your business online. Whether it's a complete design solution or you are looking to build your own website, we can help. If you need any advice on starting a website please contact us.
We've taken a quick look at the key advantages of having a website for your business.
Professional email address

Having your own website allows you to create a professional email address – rather than yourbusiness@hotmail.co.uk you could have contact@yourbusiness.co.uk.
Easy for customers to contact you

Having your contact details online enables your customers and potential customers to get in touch with you quickly.
Platform for social media

If you're already using social media, such as facebook or twitter, a website can be great platform to grow and advertise these avenues.
Available 24/7

If manning a phone 24/7 is not an option a website is a great platform for giving your customers information when you're not available.
Increase your sales

Allowing your customers to buy products or order services online gives them another avenue to transact with you increasing sales.
News and updates

Adding a blog or news section to your site is a great way to advertise new services or products and keeps your customers up-to-date on what you're doing.
Appear on search engines

With the majority of people opting to search for a solution online using search engines can you afford not to be appearing? Having a website can really help your credibility.