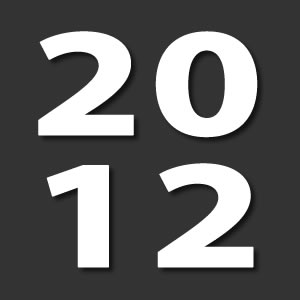 New year's resolutions…
Spending time on your website and keeping it up-to-date can be hard so why not take advantage of 2012 by making some new year's resolutions for your website.
1. Review your site's design
Take a look at your site's structure and design and ask yourself if any improvements can be made.
Could the navigation be easier to use?
Could image size/usage be reduced to improve page loading speed?
Consider using a cascading style sheet rather than inline styles to improve page speed.
Consider breaking large bodies of text into smaller chunks.
Is it easy for customers to contact you?
Add a favicon – click here for more information.
2. Make time for blog entries and updates
Finding the time to update your website can be hard and it's very easy to overlook if you have a busy lifestyle. Keeping your website update is one of the most important things you can do and making targets weekly or monthly can massively help your productivity. However you need to make sure the target is realistic, don't plan to do 3 blog post a week when you know it wont happen, instead aim for to something achievable like 1 blog post a week and stick to it.
3. Spend more time on social media
If you're looking to increase visits to your site by using social media you need to make sure you spend the time communicating via these avenues. Similar to the second point, give yourself a routine and stick to it.
4. Update software
The new year is a perfect time to check that all the software you are using is up-to-date. It is important to check this regularly as using out of date software can result in security risks and you might be missing out on any bug fixes on the latest version. If you are using a CMS such as WordPress make the time to update to the latest version as well as updating any plugins you have installed.
N.B Please remember to back-up your website before attempting any updates
5. Review your site's Analytics
Take a close look at your sites statistics to see if there are any areas you can improve. Things to look for are;
Review pages with a higher bounce rate than the rest of the site to see if any improvements can be made to these pages to reduce visors exiting straight away.
Have a look at your top landing pages and review how you can optimise them further.
6. Set goals for 2012
Make a list of things you want to achieve through your website and what you need to do to make it happen. Writing your goals down really concentrates the mind and helps remind you what your aiming for.
7. Update your footer
If you have a copyright section which displays the current year or a range of years that doesn't update automatically make sure this is updated.
8. Back-up your website regularly
Backing up your website doesn't take long and can save a massive amount of work if your site needs to be restored for any reason. Set regular reminders or get in a routine of backing up after any major changes to your website. Click here for more information on backing up your site.
9. Try something new
The new year is great time to get out of your comfort zone and try something new on your site. You could try introducing a newsletter for your visitors to sign up to, add a blog section if you don't already have one or give PPC advertising a go.
10. Check that your links are still working
Offering a link on your site that doesn't work will frustrate visitors, looks unprofessional and may make them leave your site. Take the time to check your links and make sure they still work, an easy way to check this is to use Google Webmaster Tools www.google.com/webmasters/tools/