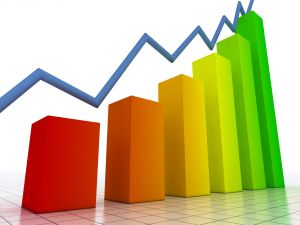 Promoting your local business
There are so many different options out there for promoting your business, and what works for one business may not work for another. This can make choosing the right thing for your business a real challenge.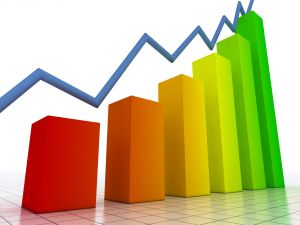 You can have lots of ideas but how many of these are scalable or realistic? For local businesses it often seems that some of the marketing techniques used by large brands such as Nike or Tesco are completely irrelevant, mainly because you won't have the time or the budget available to make it work. You need to make the most of the resources you have.
This guide aims to make you think about what's right for your business and explains how you can use the different channels available to reach your customers in a way that's going to be time and cost effective. Not everything we mention in this guide will be relevant, but they are all communication tools being used effectively by smaller, local businesses just like you.
Part 1: Discounts and offers
Part 2: Offline promotion
Part 3: Online promotion
Rule number 1 – keep it simple! It's easy to get carried away. Reduce your prices too much and you devalue your product so no one will ever pay full price again (look at DFS – they ALWAYS have a sale on) Not only that but it makes it confusing for you to remember.
Choose one product or service, and have one offer at a time. The whole point is that customers feel its exclusive and limited availability – otherwise they lose incentive to buy
Loyalty – keeping existing customers happy is cheaper than sourcing new customers – a fact pretty much undisputed throughout the marketing industry. You want your customers to keep coming back again and again. Little touches can help this.
Loyalty cards – coffee shops do this exceptionally well – buy 9 coffees, get your 10th free (if someone has used you 9 times already it's worth giving them a freebie to keep them coming back another 9 times)
Always give excellent customer service and really make your customers feel valued. People buy from people so as a local business having a strong relationship with your customers is really important.
• A small message saying thank you at Christmas
• A one off special offers for existing customers
• An email once a month with offers and updates will help you build that relationship.
Word of mouth / Referral – It's long been recognised that word of mouth is by far one of the most effective forms of promotions. We may not always trust the words of brands or businesses but we do however, trust recommendations from friends and contacts, we do trust review sites.
Reward customers for introducing a friend with a special offer or discount – they will recommend again and again if they see the benefits.
Vouchers – I'm talking about Groupon, Living Social, Wowcher (there are loads coming out of the woodwork) In theory these are a great idea BUT a word of caution.
• To make the offers really compelling you may need to reduce your prices down to almost cost price – this means that the customers who buy them may not be very profitable
• If your offer is successful then you could get hundreds of new customers all trying to reclaim the product or service they have bought. This is great but if you are a fairly small outfit then you need to make sure you have the resource available to service all of these customers well, otherwise you could end up with negative reviews, unhappy customers and a bad reputation.
• If you decide to go with one of these offers, don't do it too regularly you don't want to devalue your product and lose the customers who will happily pay full price
Print – this could be local magazines, trade magazines, press or classifieds. Advertising is often expensive (and doesn't always work – see earlier post) but that doesn't mean that you can't leverage these channels to your advantage.
Holding a press evening where you invite local bloggers and people from the press can be a great way to chat to them about who you are and what you're trying to do and to. You may get some free publicity or a free write up off the back of it, but even if you don't it's a great way to get on their radar. Buy in a crate of beers or a few bottles of wine / champagne and some nibbles and away you go.
Invite local bloggers and press in to try your business free of charge. If they like it then you may get a free review out of it. Just make sure your product and service is up to scratch.
If you have something particularly news-worthy, an opening party, a charity event, an anniversary party or a really big client then write a press release and send it out to local bloggers and press too. Writing a good press release is a bit of an art form but there are lots of guides online which can help you get something out there. Bristol Tea Company did this and got a write up from their local paper. http://www.thisisbristol.co.uk/tea-bag-doesn-t-quite-hit-spot/story-13425352-detail/story.html
This is quite a useful guide for writing press releases: http://www.wikihow.com/Write-a-Press-Release
Events – holding events, be they ladies nights, a gig / band night, charity events, networking, birthday parties etc is a great way to say thank you to your customers, to get them to bring friends and spread word of mouth. You have the opportunity to network with existing and potential customers (you may even get some free publicity if you invite the press!)
You can also get involved in local events which are happening. This helps establish you in your local community, builds reputation and is an excellent opportunity to network with potential customers. SamScaff a scaffolding firm sponsors their local football club – http://www.samscaff.co.uk/ for example.
TV and Radio – again, can often be expensive and really difficult to measure how well it works. I'd recommend if you have an event on where people just need to remember the date but other than that? Maybe not.
Flyers or Posters – These are good ways to grab attention but short lived. If you have a special offer or an upcoming event then they work well as a "burst" of activity. Aside from that they often end up lining wastepaper bins or gathering dust in newsagents. Not a good use of the money spent to get them printed.
Website – your website needs to have your key contact information on there, address, phone number and email. It should give information on: who you are, what you do, some photographs and testimonials if you have them. Avoid making it too flashy or complicated – this could cost you more and won't necessarily mean you get more business as a result. Sgis create professional looking websites for small businesses which are affordable and fit for purpose.
Make sure your website address is on any physical marketing material you have. Flyers, tshirts, banners, business cards.
Social Media – the good thing about social media is that its free, the bad thing about social media is that it can be time consuming and it will only work if you really launch yourself in to it. (setting up a twitter feed and then never tweeting anything out isn't going to get you anywhere)
Blogging – Blogs are a great way to share your knowledge and recent work, to improve the chances of search engines finding you and to inject some personality into your business. Bristol Foodie started out two years ago and now have over 12,000 page views on their food blog each month – just through blogging and twitter. http://www.bristolfoodie.co.uk/
Ask regular customers if they would write a review for you on a local review site (or even on Google reviews or Yelp! ) it will all help spread the word and potential customers will make a purchasing decision based on what they read here.
Share – Tweet / share on Facebook tips and facts about your industry. This way people will start to see you as an expert in your field. If you have a Facebook page, make sure that the offers you give are exclusively for your Facebook fans – it makes them feel more like they're in a 'club' (we all like to feel that we are special!)
Sometimes it can be difficult to think of what to put on your Facebook page or twitter feed – just remember the rule of 3s..
• 1/3 of your posts can be fun
• 1/3 should be about the industry and sharing information from other people
• 1/3 can be promoting your own business and offers
A client who runs a personal training business, Summit Fitness, has this spot on: http://www.facebook.com/pages/Summit-Personal-Training/64205939977
Video – Make the most of video. You can film videos (which are good enough quality for YouTube / the web) on your iPhone and these are a great way of sharing your expertise through social media, gives people something more engaging to watch and is fun. One of our clients Reach To Fitness does this really well. http://www.reachtofitness.co.uk/videos/
Photos – take lots of pictures and share them on Facebook / Instagram or Flickr – everyone loves having a nose at peoples photos and it gives your business much more personality. Another of our clients, Vintage Dorset uploads photos all the time and has a huge number of likes because the content shared is interesting and visual. http://www.facebook.com/VintageDorset
Search Engine Marketing – search engine marketing can often be seen as something of a dark art and to some extent it is. There are some things which you can do pretty easily though to make sure that your business appears when people are searching in Google.
1) Make sure that the titles and headings you have (often called H1s) mention the key search terms you want to appear for
2) You need to have content on your site so that when a search engine reads it, they know that it's relevant to the terms that people are typing in. An about us, or a services page which lists out what you provide is not only useful for your customers but also helps search engines know what you are about. Blogging is a great way to also boost your "searchability"
3) Google Places is free to use and simple. It's an easy way of making sure that when someone makes a location based search, your business will appear on the map. SamScaff, a scaffolding company in Dorchester has done this really well so it's easy for their customer to find them in Google.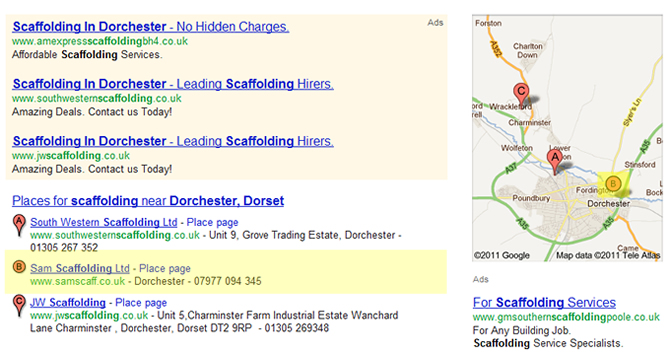 Free and paid for directories – Definitely sign up for free directories, paying to be listed on a directory or for some banner advertising can work in your favour – depending on how much it costs. In my view this is a channel which is decreasing in importance now. I think customers are more likely to look on Facebook or review sites and a directory.
If you do decide to with it, make sure that you are getting people click through to your site for more information so it's always wise to start these things with a trial just to see how many visitors you are getting. You can either set up Google Analytics for free to get these numbers or Business Package customers automatically have this as part of their SGIS Hosting Package.
Pay Per Click – also known as PPC, is where you bid for your ad to appear at the top and down the right hand side of search engines however instead of paying a fixed cost, you only pay when someone clicks on your ad. You can select which terms you appear on to make sure that they are relevant and can cap the amount that you spend so that things don't get out of control. Admittedly it's a little more complicated but it's not as bad as it sounds and there are lots of agencies and consultants (including sgis.co.uk) who can help you set up and run these campaigns.
Facebook advertising – essentially this works in the same way as PPC (above) however instead of bidding for specific search terms, you bid for people's demographic and interests depending on their profile information. This means you can select a female, aged 18-30, living in the south west, interested in Yoga and can serve adverts specifically for her. You can pay per click and can target very specifically
For more information on how SGIS can help you redesign your website, your marketing material, or get started with promoting your business online please contact sales@sgis.co.uk