Add email to Hotmail
This is a step-by-step guide to adding your sgis hosted email account to an existing Hotmail account. This is a good idea as it saves having to check multiple places for emails.
1. Log into Hotmail, click on the cog symbol next to your inbox and then click Get email from another account




2. Click on the "Add an email account"




3. Enter your email address and password and click next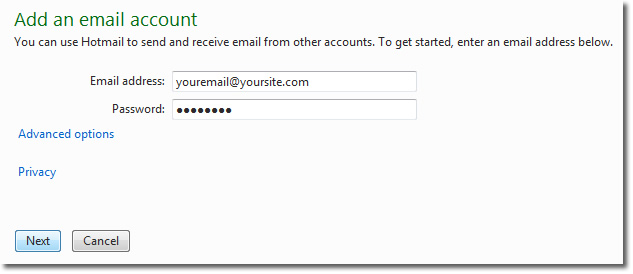 4. Make sure to enter details as below and click next
Email address: your email address
POP3 username: your email address
Password: you password
Incoming mail server: mail.yoursite.com
Port: 110
N.B. It's recommended to untick the "leave a copy of my messages on the server" option as this avoids you over filling your email account hosted with sgis.co.uk. However as the emails wont be left on the server they wont be viewable via webmail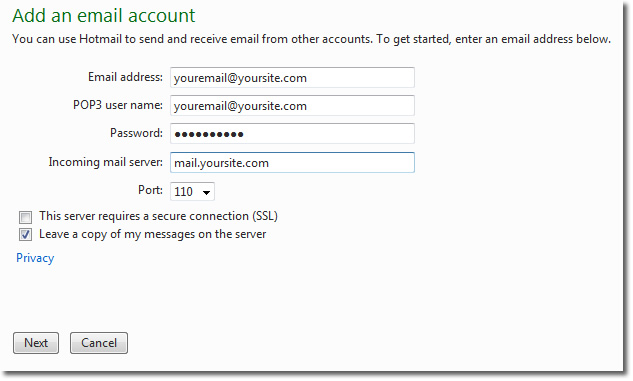 5. Taylor the final options and chose where you want your mail to appear. Click save.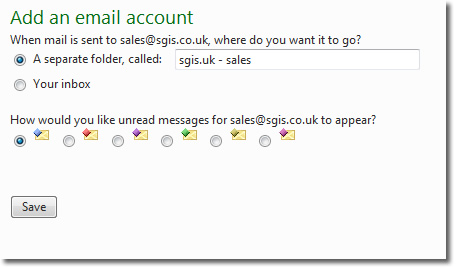 6. Click "continue to hotmail"




7. An authorisation email will be sent from Hotmail to your sgis hosted email account and this must be authorised by logging in to webmail before the account is fully moved accross. You will also not be able to send emails until this has been done.